Energy Crafting
Grow you own solar cell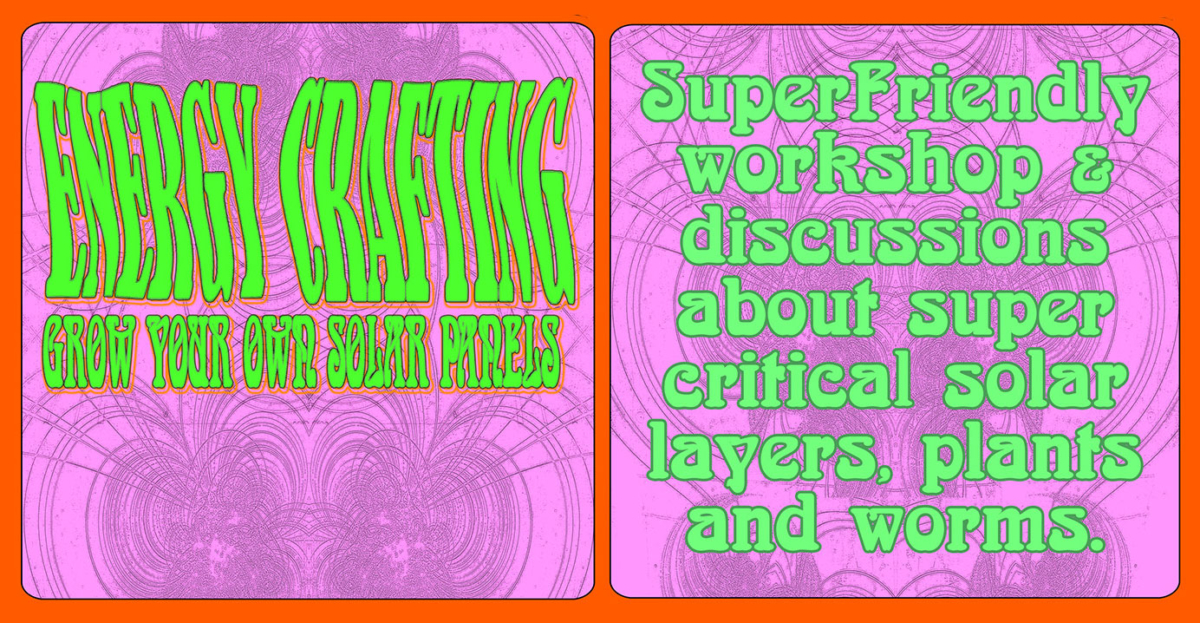 Energy Crafting is a two day worksession led by 施 惟 捷 Shih Wei Chieh and Maya Minder, with inputs from The Institute of Technology in the Public Interest, Wiriya Rattanasuwan and Regenerative Energy Comumunities. Over the two days participants will be introduced to the connections between DIY energy craft, practices of infrastructure building, art and community practices of regeneration and technologies in the public interest. Participants will take part in a two day worksession to collectively research energy crafting for a regenerative present! We will collectively and practically work on the practices of growing and community energy creation, alongside creating new solidarities for organising instituting practices – bring your proposals for crafting new energy kinships!
During the two days participants will be introduced to crafting solar cells, including extracting natural dye from plants, etching on conductive glass and assembling small-scale solar cells. Dye and pigments are essential in textiles and painting, and also for dye sensitized solar cells (DSSCs). DSSCs are a type of cell that mimics plant's photosynthesis. Different colors of DSSC can be made using different dyes extracted from the local environment. In this process more toxic chemical elements found in common solar panels are replaced with those of plant-based dyes and organic polymers to make a gel that forms an electrolyte layer. From raspberries to wode, from scavenged sunscreen to blueberries, we will grow our own solar cells; an energy crafting for a regenerative present!
Registration
The workshop is free of charge, but please register in advance at this email: welcome@weareaia.art
It is possible to attend one or both days (please let us know in the registration which days you are planning to attend). The workshop is for ages 18 years old and up, and no previous technical experience is required. Small foods and snacks will be served on both days. Workshop language will be in English (but with some informal translations).
23rd September: 14:00–18:00
On the first day, we will start with a collective moment lead by Femke Snelting and Martino Morandi – our friends from The Institute of Technology in the Public Interest – who will lead us in diagramming how energy crafting practices such as these might institute community infrastructures for forms of togetherness. 施 惟 捷 Shih Wei Chieh will then introduce their multiple practices with solar crafting and community energy experiments. Participants will then be guided through the processes of extracting natural dye from plants, etching on conductive glass and assembling small scale solar cells. A day of super friendly discussions and energy craftings with super critical solar layers, plants, agrivoltaics and worms!
24th September: 11:00–15:00
The second day will begin with a panel discussion, "Critical reflections on artists working with remote communities", between 施 惟 捷 Shih Wei Chieh and Wiriya Rattanasuwan. The Greenhouse project takes root in a charity initiative by the artist Shih Wei Chieh and the scientist Wiriya Rattanasuwan, who engaged with the Tashi Getsen Charity School founded by Tsangsar Kunga Renpoche and the local population of Nangqen for the building of a greenhouse to provide food year-round for the children sheltered by the school. The difficulty of feeding all of the students is particularly present in the winter time when temperatures can go down to -30°C. The greenhouse conceived and built by the artist and the researchers is destined to resist cold weather and be efficient all year long. From this root, they wish to grow different branches: a scientific research laboratory and an artistic program. The greenhouse is a ground for experimentation in different disciplines thanks to the implementation of various technologies. The experience and the reflection, and the potential future plan around the project, will be given in this panel.
Following the panel discussion, participants will check in on the state of the natural dyes left overnight and continue work on assembling small scale solar cells. There will also be an opportunity to solder low energy Printed Circuit Boards (PCBs) synthesisers and we will finish the day with a loose energy jam session that results from the two days effort into a final collective assemblage.