Groundings: Rare Earth / Militant Research
Cassandra Troyan & Fred Carter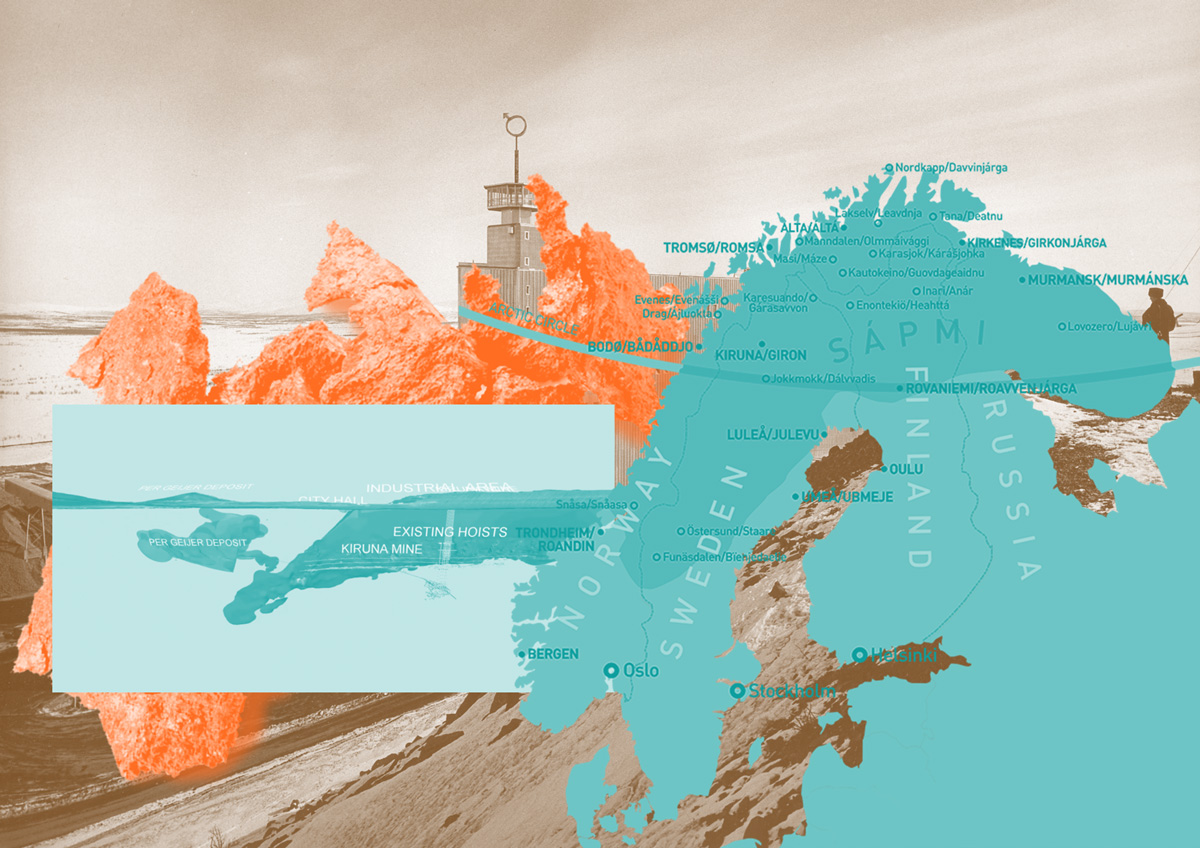 To ground is to recognise relations to land. To ground is to reckon with terrains of struggle and terrains of domination. To ground is to attempt to grasp the landscapes of capital as a lived terrain, saturated in petroleum or exhausted by the metabolisms of industrial extraction. To ground is to dig where you stand, doing research on the job. To ground is to do study together, in the field and in the thick of struggle.
In the final months of last year,
Groundings
gathered a cluster of practitioners, researchers, and political organisers in Växjö, Sweden, to ask what it might mean to ground our modes of study in the manifold terrains of struggle across which histories and horizons of fossil energy, resource sovereignty, and collective autonomy are contested. To trace, in other words, the grounded solidarities and situated practices that emerge across capital's extractive zones (Gómez-Barris 2017) and terminal landscapes (Diamanti 2021). Drawing on a diversity of research tactics, from the decolonial practices of Walter Rodney's
Groundings With My Brothers
(1969) to the working-class environmentalism of Sven Lindqvist's
Dig Where You Stand
(1978), the project was conceived as an attempt to build collective vocabularies and critical methodologies that remain accountable to the interlocking demands of decolonisation, decarbonisation, and liberation.
Taking up the tools of research militancy (Colectivo Situaciones 2003; Counter-Cartographies Collective 2018), and building upon our research with Eric Snodgrass in the Groundings project, this residency asks what it means to dig where we stand when the historical wreckage of fossil-fuelled accumulation and the envisioned trajectory toward transition depend equally on the exploitation of hydrocarbons and rare earth elements? What practices of militant action research, or conricerca, might emerge on the terrains of energy circulation and resource extraction? Finally, how can the methods of practice-based research become an apparatus for re-envisaging transition from below?
To be situated in the south of Sweden is also to grasp these interlocking questions through the nexus of unsustainable growth, "clean" energy transition, and infrastructural dispossession that has contoured green colonialism across the Arctic regions (Kårtveit 2021; Vetter 2021). Exacerbating a historical reliance on resource extraction and renewable infrastructure in the north, Sweden's energy strategy remains dependent on the expansion of hydropower dams and wind factories across the Indigenous territory of Sápmi (Fjellheim 2022; Össbo 2022). Now, accelerated by increased demand for rare earth elements, mining for minerals in Swedish-occupied Sápmi has come to crystallise the coloniality of state-led transition.
Earlier this year, the state-owned international mining and minerals group LKAB announced its discovery of the largest known reserve of rare earth minerals in Europe: the Per Geijer deposit. Since breaking ground in 1898, LKAB has operated the planet's most extensive underground iron ore mine in Kiruna, or Giron in North Sámi, situated on the ancestral lands of the Sámi people. Where the nineteenth-century "Ore Line" once linked mineshafts in Sápmi to Swedish manufacturing, accelerating accumulation through industrial dispossession, the mining company's directors now envision fossil-free value chains embedding Kiruna's raw mineral resources in the batteries, turbines, and technologies of future growth (Kuhn 2020). At the same time as Kiruna's reserves of phosphorous, "carbon-free" steel, and "innovation critical" rare earth elements establish Per Geijer as the material grounds of an envisaged green energy shift, Sámi land defenders and traditional reindeer herders are subject to escalating state repression and territorial enclosure.
For us, the work of grounding takes on additional meaning and responsibility as a militant research practice when the site of study is overwritten by the exploitation of energy resources and mineral deposits on Sámi land. Through practices of anticolonial, anticapitalist, and autonomous research sketched above, how might we move beyond extractive knowledge production and its idioms of excavation toward modes of study grounded instead in self-determination, solidarity, refusal, and resistance?
At the close of this two-week residency, we invite students, colleagues, comrades, and collaborators at IXDM to join us for a presentation of work in progress and research from the residency.
Fred Carter
is
AHRC-funded Postdoctoral Fellow
at the University of Glasgow and
Landhaus Fellow
at the Rachel Carson Center, Munich. His current monograph project,
Poetry & Energy After 1973,
traces the poetics of exhaustion and politics of refusal that emerge in the wake of intersecting crises of petroleum, productivity, and social reproduction in the 1970s. Recent or forthcoming work can be found in
Green Letters, Postmodern Culture,
and
The Routledge Companion to Ecopoetics
. A poetry chapbook,
Outages,
is out with Veer2 in May, 2023.
Cassandra Troyan is a Senior Lecturer in the Department of Design at Linnaeus University, and Co-Director of Visual Communication + Change: a programme investigating art and design's role in fostering sustainable socio-ecological transformation, where they teach theory, practice, and creative-critical writing. Their current research investigates apparatuses of state domination and surveillance through political, artistic, poetic, and theoretical practices toward a horizon of prison abolition, transspecies liberation, and sex work against work. They are the author of several books of multi-genre work, including A Theory in Tears (2016), Freedom & Prostitution (2020), and most recently Against Capture (2022). Recent or forthcoming publications can be found at Another Gaze, Portable Gray and with Helen V. Pritchard, the chapter, "The Anti Menagerie: Methods for Interrogating the Supremacy of World-Shaping Violence," in Multispecies Storytelling in Intermedial Practice.
References
Diamanti, Jeff. Climate and Capital in the Age of Petroleum: Locating Terminal Landscapes. Bloomsbury Publishing, 2021.
Fjellheim, Eva Maria. "Green Colonialism, Wind Energy and Climate Justice in Sápmi." Debatesindigenas.org. October 1st, 2022. https://debatesindigenas.org/ENG/ns/191-green-colonialism-wind-energy-climate-justice-sapmi.html.
Gómez-Barris, Macarena. The extractive zone: Social ecologies and decolonial perspectives. Duke University Press, 2017.
Kuhn, Gabriel. Liberating Sápmi: Indigenous Resistance in Europe's Far North. PM Press, 2020.
Kårtveit, Bård. "Green colonialism: The story of wind power in Sápmi." In Stories of Change and Sustainability in the Arctic Regions, pp. 157–177. Routledge, 2021.
Lindqvist, Sven. "Dig where you stand." Oral History 7, no. 2 (1979): 24–30.
Mason-Deese, Liz, Craig Dalton, Nathan Swanson, Tim Stallmann, Maribel Casas- Cortes, and Sebastian Cobarrubias. "Counter–Mapping Militant Research." In This Is Not an Atlas, pp. 212–221. transcript Verlag, 2019.
Rodney, Walter. The groundings with my brothers. Verso Books, 2019.
Situaciones, Colectivo. "On the researcher-militant." eipcp-European Institute for Progressive Cultural Policies (2003).
Vetter, Martina. "We Need a Policy for Both the Climate and Nature: An Interview with Aili Keskitalo." The Goethe-Institut Finnland, August 2021. https://www.goethe.de/ins/fi/en/kul/sup/rbc/tra/22328375.html.
Össbo, Åsa. "Hydropower company sites: a study of Swedish settler colonialism." Settler colonial studies (2022): 1–18.