Extended Ecologies
Phase One: Research Labs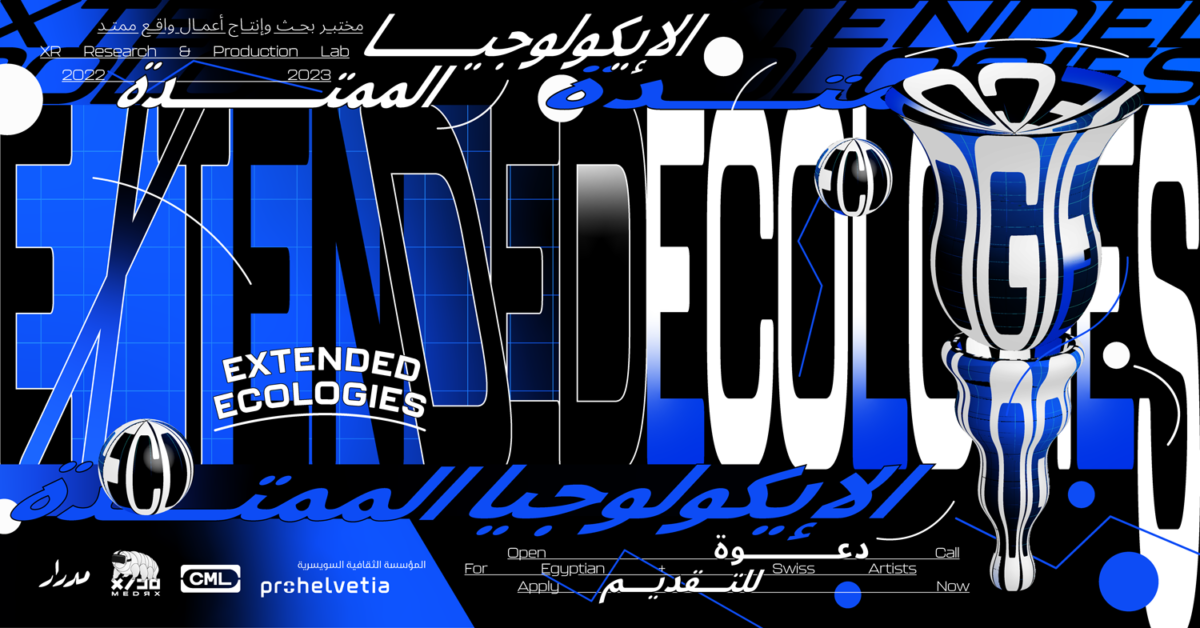 Medrar for Contemporary Art
and Critical Media Lab Basel (CML) are thrilled to announce the first phase of the programme
EXTENDED ECOLOGIES
, The RESEARCH LABS.
Extended Ecologies is a one-year, joint programme between Medrar* in Cairo and the Critical Media Lab (CML) in Basel that aims to create and reflect the ways that extended reality (XR) technologies can transform our relationship with physical environments, and so ourselves and other beings. XR is not only to be used as a tool of mediation, augmentation or ornamentation but is also a tool for reflection and re-creation, a method of transformative research as well as a means of production.
The capacities of immersive and surround media to artistically and creatively translate space, place, and evoke empathy and so potentially care, for places of concern and communities of practice, are foregrounded. In its formats, the programme is able to bridge gaps between research and production, 'virtual' and 'real' spaces and problems, as well as facilitate the ongoing dialogue between Egyptian and Swiss and central European artists.
Extended Ecologies aims to reflect and explore new possibilities of thinking and being in environments, in relation to their ecologies. The ways we relate to ourselves and to the world call for focus on the transformative qualities of XR, and how the experiences it enables can alter our relationships to worlds, world-building and the environment we transform and inhabit. We are interested in issues related to the environment, climate change and ecology that can be explored in relation to the technologies of extended reality while sometimes using XR tools.
By promoting research on ecological topics, alongside experimentation with XR digital technologies and artistic practices, the Extended Realities project invites us to question the role of practitioners, artists, researchers and people facing changes to their real habitats and landscapes. These altered realities will of course alter our extensions.
The Extended Ecologies programme consists of 3 phases:
2 Research Labs (February-March 2023)
1 Production Workshop followed by an exhibition (April-August 2023)
XR performances series (December 2023)
THE RESEARCH LABS
Extended Ecologies' first stage consists of Research Labs hosted by groups and mentors at the Critical Media Lab Basel, University of Applied Sciences and Arts Northwestern Switzerland. Research Labs are held online and offline, involving in-situ communities both in Egypt (Medrar) and in Switzerland (CML), and includes 8 core researchers and/or art practitioners (4 Swiss-based and 4 Egyptian-based). The labs culminate in a compendium of research results, released publically, and as interactive publication.
The culminative interactive publication comprises research resources as well as materials developed by researchers and art practitioners The interactive publication will take on different forms and be experienced through navigation or as a virtual publication. Navigation through web-art interactive online platforms, or motion-capture interactions (ex. Kinect) & VR headsets where participants can navigate through the publication resources in various ways, are all possible.
RESEARCH LAB 1: ECOLOGIES
How can XR spaces become useful in the healing and caring for real environments and ecologies? Are there ways in which the new worldings that XR brings into play can help us understand the relations of existing physical beings, and how they scaffold one another's existence and life?
RESEARCH LAB 2: MIGRATIONS
How could XR technologies be used to interrogate the notion of 'borders', 'migration', fringes, edges, or outskirts of territories. As a theme in classical VR and XR projects, this idea of a 'land outside' is to be explored in terms of its relation to actual migration crises, movements and borders in Europe and North Africa, and beyond.
How these will take place:
Each Research Lab is comprised of 1.5 days of activities divided into 2 sessions (one afternoon/sunset session + one full day) followed by 3/4 follow-up meetings in the following weeks.
About guests:
The programme is supported by a growing community of artists and critical thinkers who are approaching similar questions, including the prospective involvement of:
GUIDELINES AND REQUIREMENTS
The call is open to artists and researchers from Egypt and Switzerland from different disciplines willing to explore their practice in relation to XR technologies and environmental matters.
Applicants have the choice of applying for one research lab or for both, by selecting the preferred option in the application form. We encourage applicants to participate in both labs, and preference will be given to people who can commit to the whole Extended Ecologies programme (Research Labs + Production Lab).
Preference will be given to participants who have some experience working with any programming languages, 3D modelling software, 3D creation tools, VR, AR, audiowalks, or any other tools that fall under a broad definition of XR.
The Research Labs will be held in English. Therefore, a good level of spoken and written English is required.
Participants must have their own laptops and the ability to run the required programmes.
The applicants are required to submit a brief concept they are interested in researching and developing throughout the Research Lab.
Applicants can support their application with multimedia content relevant to the application proposal.
The selection criteria of participants prioritise the relevance of the participants' proposed concepts to the content of the selected Research Lab.
The participants have the option to work in groups or individually.
Upon completion of their research papers within the set deadlines, the participants will be provided with a participation fee.
To apply, the applicants are required to fill in the application form with all the required material and information. Applications missing any required information will not be considered.
The extended DEADLINE for submissions is:
November 30, 2022
To apply, fill in this form: https://forms.gle/fGLPMZsXGbHBhjCq7
All applicants will be notified via email, no later than December 31, 2022.
For inquiries, please contact info@medrar.org and copy mariana.tilly@fhnw.ch.
Extended Ecologies is organised by Medrar for Contemporary Art and Critical Media Lab (CML) with the support of Pro Helvetia Cairo.
*This project falls under Medrar's recently launched MedRX -XR Portal umbrella project, a long-term programme that champions the creation of counter-narratives that reimagine our world and alter our understanding of global and local matters. It strives to bridge the gap between alternative artistic research and production by facilitating and developing labs, workshops, exchanges, lectures, exhibitions, and events. It is open to all artists, cultural practitioners, and creators from different disciplines interested in enriching their artistic practices by experimenting with cutting-edge technologies and reflecting on what possibilities emerge from this intersection. To know more: https://www.medrar.org/projects/medrx/
MEDRAR FOR CONTEMPORARY ART acts as a springboard for an ever growing independent community of visual artists, filmmakers and multidisciplinary artists. Through its projects, it boosts experimentation at the intersection of visual arts, filmmaking and technology. By facilitating and cultivating non-traditional methods for experimentation, reflection, production and curation, it intends to disseminate artistic practices that go beyond academic methods and connect artists in the country and with their international peers with the aim to multiply formats of collaboration.
https://www.medrar.org
The CRITICAL MEDIA LAB (CML) is a community, a space and a platform for research and practice at the intersections of design, media, art and technology, situated in Basel (CH). We combine perspectives and methods of history, anthropology, sociology, media studies, cultural studies and political science.
https://criticalmedialab.ch